UGANDA: GULU OPPOSITION LEADERS CELEBRATION ONLY PLAYS IN TO MUSEVENI'S HAND.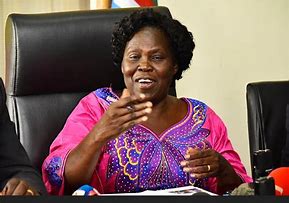 What would be the impact of celebrating the assumption of a higher political office by an opposition figure to the already entrenched military dictatorship in Northern Uganda by Mr. Museveni and his henchmen like Gen. Moses Ali who has driven 7,000 people from their homes into Internally Displaced People's camps in Apaa?
GULU-UGANDA: The leader of opposition in parliament Mrs. Betty Aol Ocan the Woman MP for Gulu District tomorrow, Saturday10th,  March, 2019 is ready to throw a big feast in Gulu Municipality, her mobilizers are moving with public address system calling for thousands of people to dine despite high rate of death in Apaa.
Hon. Betty Aol is calling for well-wishers and Forum for Democratic Change FDC supporters to turn up to celebrates her appointment as Uganda Leader of Opposition (LOP) in Parliament, the announcers say.
Among the political big wigs, who are  expected to grace the political rally are: Dr. Olara Otunnu, former UNs Under Secretary General  for Children Affairs, Norbert Mao Democratic Party President General, and Jacob Oulanyah Deputy Speakers of Parliament and Dr. Kizza Besigy former 2016 presidential flag bear for FDC.
 .
Okot Mark, an opinion leader in Gulu town says Acholi community are witnessing political mediocrity, says the like of Hon Betty Aol and the Acholi leaders invited to grace the gala at the expenses  of Apaa mayhem, Okot urged.
'Hon.'Betty Aol is a political smoke screen by Dr. Kizza who does not control even members of the MPs, the Oppositions in Parliament, she is being seen by Museveni as none starter, whose her duty is to cause controversy on the floor of parliament, Uganda dictator uses such weak political players to mobilize for him.'' Okot intimates.
He says  Uganda political status quo will remain un governed if such political mediocre continue to hijack political stage, Acholi community need to put their political agenda  first, but not joining any political bandwagon without unity among themselves.  Betty Aol Opposition Leaders does not have the stake to strike the political balance.
''Of course currently Uganda Democratizations is in limbo, the fact that Dr. Olara Otunnu  Norbert Mao, and Kyagulani names are being used in the campaign to mobilize Aol's feast, it legitimize the failed democracy, if by chances Dr. Otunnu grace the function, it is like flogging a dead horse.'' Political observer remarked.
He argues that Hon. Aol gala will be use to judge the FDC strength in northern Uganda and Uganda at large therefore,  Ugandans  are going to be hoodwinks to believe that there is hope in the making by démagogue  who are duping them,
.
Uganda as country need a political road map for political transition, which Uganda dictator Museveni does not have, even the so called leader of Opposition remains tight lip. What is going to happen tomorrow at the gala is the repeat of political state managed.
Therefore, critically looking at  Dr. Kizza who has been the strong face of the opposition since 2001, has done his good will, but there is a lot to be done. When we examine the past Uganda Presidential polls, Dr. Kizza including members of various oppositions parties have not been in control of the presidential polls. However, they have managed to send their Members of Parliament in the August House, but they failed to stopped Museveni  using state machinery to rigged presidential polls, ''Museveni always by-pass Uganda Electoral Commissioner, when Dr. Kizza became in active, political observer urged.
Thus, Uganda Oppositions parties leaders should organize the populations to support the course for change in leadership, they must learned from Arab revaluation. Otherwise Kyagulani almost did it when he was molested in Arua in August  parliamentary by election last year 2018, when the world rose up and Uganda youths called for people power  change in leadership.
What a hell is this, Uganda Opposition Party Leader Betty Aol's gala,  this is the same  hallmark of Uganda tyrant ploy.