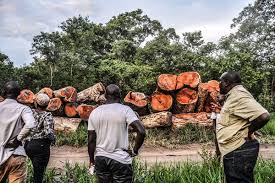 UGANDA: UPDF DEVASTATES FOREST IN AMURU
In Layima village, Pailyec Parish Amuru Sub County Amuru district Northern Uganda the army has laid down it guns and turned to power saws to indiscriminately fell trees. The areas was once densely populated with the indigenous African Afzelia commonly known as ``Beyo`` in the Acholi language. Before the area was hideout for the Lord`s Resistance Army-LRA rebel group.
AMURU-UGANDA: The prevailing peace across Northern Uganda following decades of LRA insurgency has set ground for environmental destruction.
Businessmen investing in tree products travel as far as from Western, Eastern and Southern parts of Uganda as well as Kenya to camp in Northern Uganda, a case in point Amuru district.
Local authorities in the area and environmental activist say more than 60 trucks loaded with several bags of charcoal and logs traverse the district daily.
They pin Uganda People`s Force senior commanders of both actively and passively taking part n the business on the defense of their guns.
John Ojera is a driver for Amuru district local government; he is an eyewitness who says forest covers in Layima village especially Africana Afzelia has been greatly destroyed at the on-look of UPDF officers.
"on Thursday July 18th 2019 I found over 60 lorries loading charcoals at Layima village, Amuru district but the surprising sight was when I saw those felling the trees armed with guns. Ojera said.
Ojera had to explain more why the business is still in the district yet it was banned across Acholi Sub Region by about three years ago.
He says three years ago Michael Lakony the Amuru district chairperson mounted road blocks at Labala parish, Pabbo Sub County to stop the illicit business but he was assaulted and threatened with death by the armed men.
Michael Lakony told oyeng yeng publication that the illicit business on forest is on rampage in his district due to lack of forces from the native land who directly feels the pain of trees destruction.
He explains that the foreign army and police personnel are conniving with the dealers or personally involving in the business.
Lakony remembers that not only Geoffrey Kabi one of the charcoal dealers used security operatives and dragged him to court on allegations of aggravated robbery to keep him out of the fight for environment but he also escaped death after his vehicle was intentionally rammed into b a truck ferrying charcoal.
Lakony says even with the district ban on forest business police and the army has allowed vehicles carrying the prohibited products to freely traverse the district or even offer manpower to escort them up to safe havens.
He threatened to petition the Inspector General of Police to act on the misuse of police officer for illicit business in the district.
"I am soon going to write to Naguru Uganda Police Headquarters appealing t IGP to transfer the police officers who are abating corruption in police." Lakony disclosed.
Political big wigs also accuse President Yoweri Museveni of turning a deaf ear and blind to the public outcry over environment destruction and his security officers` involvement in the business.
In Omoro district, Ben Acellam the political assistant of deputy speaker of parliament Jacob Oulanyah mobilized the community members of Ora-Apwoyo village in Lalogi Sub County to drive away those indiscriminately cutting trees.
In Pader reports indicate that one resident Ongom Luciamio has offered his land to over ten men who are using power saws to indiscriminately fell trees at Juk Lebi village in Bolo parish Awere Sub County.
Anthony Opwa from Awere fears that the area may never receive rainfall which entirely relies on catchment from tree covers.
"With the rates of forest destruction, I don`t know if we are going to have rain next coming year. " Opwa wondered.