UGANDA: PRESIDENT MUSEVENI CAN ONLY BE OUSTED BY A COALITION-DP PARTY
We have a long term pattern; President Museveni is plundering the wealth in Great Lakes Region.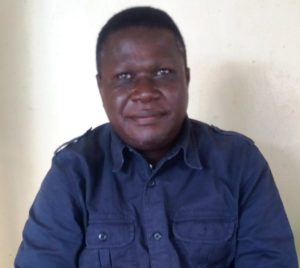 Museveni remain with people he arm-twists that support his looting. Coalition is viable tool to remove him; the government who has been in power for the last 33 years cannot be removed by single party.
GULU-UGANDA: The Democratic Party (DP) is putting in place long term strategy to topple Uganda's dictator Museveni from power, as the top party organ is drumming up grassroots drive to recruit members and strengthen the party structure.
Dr. Siranda Gerald Blacks, the Secretary General for Democratic Party stalwart last week on Thursday August, 8th 2019 who appeared with armful top party official to address press conference in Gulu, Northern Uganda Media Club says they are ready to form viable single party candidate in coalition to remove Uganda's dictator Museveni from power come 2021 presidential polls.
Dr. Siranda argues that President Museveni has been thriving on opposition parties' weaknesses, adding that when Museveni came to power in 1986, he put ban on all political activities. His Democratic Party which has been in existence for 65 years also suffered the same fate of political ban since they were not allowed to operate at the party's headquarters.
Christopher Okidi, the President of Uganda Young Democrats who equally addressed the media in Gulu says DP has been on building structure, the Secretary General and his team embarked on training in the Greater North, starting from Busoga region up to West Nile Region.
"Just to understand the problem at the grassroots and provide capacity building structure and get energizer, we have been having series of issues like economic growth, corruption and inept governance." Okidi argued.
Okidi admits that Democratic Party in the previous elections was not visible on grounds to recruit members adding that the party has now embarked on grassroots mobilization ahead of the 2021 general polls.
He says the party is working hard to front the party President Norbert Mao into the alliance whose decision will fill in a single candidate to challenge President Museveni`s 33 years reign.
He is however hopeful that his party boss Norbert Mao is suitable to spearhead the process of the coalition alliance with all the Opposition Parties.
"We want DP President General Norbert Mao to work with other parties; right now we have started the model of one on one, where NRM candidates would be standing we would sponsor also our candidates" Okidi reasoned.
Dr. Siranda argues that in 2000 the DP gave support to Forum for Democratic Change (FDC) right in 2001 and 2006 equally adding that also in 2016 when DP supported John Patrick Amama Mbabazi of the Go Forward pressure group.
"The people who caused the regime change in Egypt, Sudan, Tunisia and many other countries are the civilians". Dr. Siranda urged.
"DP has values not only about spearheading the struggle" Siranda continues.
He argues that Western Powers have their interests revealing that they are not going to dump supporting DP, though they have their policy which they stand for and blames Museveni for plundering wealth in Great Lakes Region with impunity.
He lined up with coalition as a viable tool to topple Uganda's tyranny and urges other opposition parties to unit a head of 2021 if the opposition is to usher the country for transition.
"We are building bloc with in alliance with other political parties and other likeminded democratic seeking forces" Dr. Siranda confirms.
He disclosed that there are many people who are within the NRM ruling party an inch away to join opposition parties adding that only the need is a sense of direction which oppositions should provide.
"Ugandans are looking for DP institution as the key in politics unlike Museveni where some men who have problem with their wives run to for help" Dr. Siranda.
The Secretary General reasoned that the DP has founded the ideology of the People's Power pressure group inherited by the Kyadondo East MP Robert Kyagulnyi alias Bobi Wine the musician turned politician.
He claimed that the Kyandondo East MP was invited in Gulu in 2018 by the Democratic Party during the "Togikwatako" nationwide campaign where the ideology of peoples' power social movement was founded.The Kaydondo East MP whose father was the core founder of DP party was in attendance of the meeting.
Pamela Lanyero, the former DP candidate for Gulu Municipality parliamentary race says the grassroots mobilization is to address the issues of high dropout of children from school, eradication of poverty and addressing the multiple challenges of health complications in Northern Uganda.
"We want our grassroots leaders to understand and be able to address the underlined, the DP is recruiting elders in the structure to beef up party national outlook." Lanyero said.
Francis Zake, the MP Mityana Municipality told journalists in Gulu shortly after being committed to High Court over the Arua treason case that they will fight to liberate the country inevitably despite of several encounters with the state machineries.
"Museveni's struggle against us is a dead one, he started to use many means to curtail us including trumped up charges in court" Zake retaliates.
Asara Night, the woman councilor for Arua Municipality, one of the 38 Arua bye election treason suspects that were brutally arrested in 2018 commended  Ugandans and other Human Rights Agencies for standing with them when they were tortured and brought to Gulu Police cell almost naked.
She however blasted the citizens for being cowardice and allowing foreigners to run their country. Asara claimed the President Museveni is a Rwandan who has reigned over Ugandans for the last 33 years in despot.
"When I was tortured almost to death and was bed ridden, the foreigner was controlling us, why are the MPs in this country not standing with people, they are foreigners alike" Asare boils in hunger.
She claimed that majority of the MPs in the August House are foreigners who have settled in the country and urged Ugandans to remove Museveni and his henchmen using ballots in 2021 presidential and general polls.
" If Donald Trump, the US President have reportedly told African-Americans to get back and develop their own continent then it is the good approach some of these foreigners who have settled in our country could do"
The political pundit doubts the Uganda opposition parties' ability to topple the Kampala regime, Uganda constitution is the Preamble recognizing; our struggle against the forces of tyranny, oppression and exploitation.
The constitution chapter one, sovereignty of the people, clause (1) says, all power belong to the people who shall exercise their sovereignty in accordance with this constitution.
But, the executive authority of Uganda under article (99) of Uganda constitution clause (1) says , "The executive authority of Uganda is vested in the president and shall be exercised in accordance with the constitution and the laws of Uganda."
Clause (2) states that the president shall execute and maintain the  constitution, all laws under or continued in force by this constitution, it goes on ….
President Museveni has been mandated to appoint Commander –in-Chief of Uganda Arms Forces, appoint Uganda Chief Judge and appoint Electrol Commissioner which has been vested upon him.
Political pundit argues that for the last 33 years Museveni has been in power, he used UPDF which are his brainchild to rigged elections, which later on commanded Electoral Commission to announce his parked ballots paper of pre-ticked votes from UPDF garrison.
President Museveni used Uganda Chief Justice, turned it as rubber stamp, right from 1996 when he contested for presidential polls with Dr, Kawanga Ssemwogerere, up to 2016 he has been playing a monkey game in Uganda politics.
The question is now, how sure is it that the opposition under DP and the People's Power president Robert Kyagulanyi single presidential candidate coalition will outsmart Uganda tyranny Museveni?