UGANDA: RELIGIOUS AND CULTURAL WAR MARRED ACHOLI SPIRITUAL CLEANSING.
A fresh clash between Acholi traditional and Religious leaders has brew up following demon cleansing "Ryemo Gemo" by Lagoro deity of Pajule chiefdom. Bishop Macloed Baker Ochola II attacked Esther Atuk, a renowned spiritualist, calling her a demonic worshiper.
Lagoro  deity  call for Demonic cleansing "Ryemo Gemo to stop  the death tools that has swept across Acholi sub region, Lagoro claims that high death rate that has strike his people is the result of bloodshed and the taboos, the foreigners who came in the region has hand in fatal behavior of the indigenous Acholi people.
KITGUM-UGANDA: Lagoro deity of Pajule chiefdom ordered his subjects to chase Gemo, literally mean virus and microorganisms, Lagoro says Gemo which is causing high death tools in Acholi community. The order was passed to 12 chiefs under Pajule clan.
According to Lagoro which believed to be a spiritual deity, who rarely come to communicate and pronounce the future for Acholi during time of good and bad, the communication is always happens at the foot of Lagoro hill in Acoli-bur, Pader district.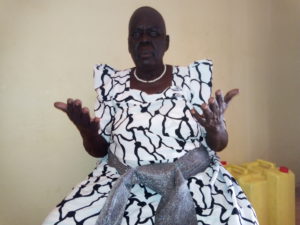 According to Esther Atuk, 77 years old, Woman Spiritual leaders who are behind Demonic cleansing, Gemo chasing says, the demonic chasing started on Thursday August, 22, 2019 from Kitgum and it spread to the 8 districts of Acholi Sub region and beyond
Atuk says by 2010 when the Lord's Resistance Army rebels leader Joseph Kony threaten to come back, Lagoro deity spokes up for the first time and order to take an oath to stop the invasion of LRA Rebels Joseph Kony into Uganda from Central  Africa Republic CAR.
Earlier Lagoro predicted that there will be mystery disease that would strike Acholi community, and it came Hepatitis C and Hepatitis B, the nodding syndrome disease and Sickle cell. Which has come to reality today but we seem not bothered," Atuk notes
Atuk added that, later Lagoro Deity said unless the Acholi community made advance cleansing, because his royal place has been tainted during the two decades bloody Northern Uganda conflict, predicament shall come continue to befall the people of Acholi
Atuk disclosed that Lagoro now surprisingly spokes again early this year 2019, the Lagoro warned Acholi community that there will be a catastrophe, and it's now happening as over 200 people are dying every day in Acholi sub region
When pressed further by the Oyeng Yeng News editor what is presume to be Gemo, and why it must be chase?
The Spiritualist Atuk claims Lagoro deity said, "His people have been injected with toxic yet unknown chemical substances saying others injection has been through immunizations campaign, while other infection were through food poison
How cleansing Gemo happens.
On Thursday August 22, at dawn Lagoro urged, each household to take broken pot, pour ashes into broken pot, takes it up to any nearby stream. Later everyone who lives in the household would beat up the drum, or tin calabashes   pushes chase all that kind of illness that has befall the household.
The people in each household must make, "ululation, blow horns," to demonstrate to God that they have repented, now all their wish and burden has been forwarded to gods, this is instruction from Lagoro deity. Atuk narrates.
So, people from East Acholi, the Kitgum, Lamwo, Pader and Agago districts begun to beat drums, blow horns and make ululation with kijira. And on Saturday August 24th 2019. The people of West Acholi will also have to join in the chasing of Gemo.
Lagoro instruction was that after Remo Gemo, virus and amoeba, when the people who chase Gemo come back, the meal that is cock on that day, people should eat it without salt. And Lagoro prohibited night vigilantes
"On that day no one should move in the night, and youths who always go the disco must remain in house, because whoever, went out will be taken as a person who will be dancing with them, those are ghosts." Lagoro instructed.
Atuk said Bishop Baker Ochola II attacked Atuk, Spiritualist when he appeared on Tembo FM radio talks show calling her the leader of Satan
"This annoys many the people of Kitgum district and the neighboring districts, it provokes people hunger, and the following day other groups of people also went on Tembo FM radio station to make counter attack," Atuk said
Rwot Yusuf Adek, Pageya clean chief were one of the caller on Tembo FM radio station says that Demon cleansing it is also in the Bible and Koran books adding that catholic believer also supported demon cleansing
In Rwot Adek words "I do not support section of Christian who says demon cleansing is bad, does it means Lagoro is a demon agent, if Lagoro could chase demon then he is not,"
The Lagoro predicted that after traditional Jwee cleansing there shall not be mass death as it has been happening on, and the people who has been causing misery, they in turn things will boomerang on them