UGANDA: ACHOLI CONFERENCE A BEACON OF HOPE FOR ACHOLI
Heavy down pour put a nail on confine, the much awaited Acholi Conference launch; the heavy down pour was a necessary evil.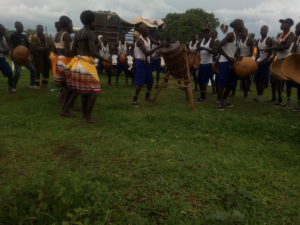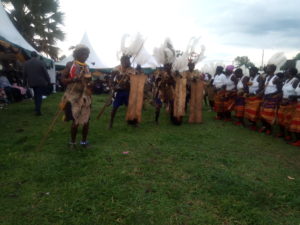 GULU-UGANDA:  Acholi Economic Conference Forum launch in Gulu by Christine Akello Lutara the organizer  for ACF Uganda capture with her counter part Coordinator Mr.  Oloya Oruni a London base Acholi's Diaspora they were monitoring the launched from the social media.
The Madi Opei Acholi traditional Otole, war dancers entertains the residences of Gulu City as they display Otole mock fight defensive war assault, trailing thousands of on lookers for the first time in Gulu City after Northern Uganda conflict.
Alex Picwah, a Gulu base radio reporter for Choice FM 92.1 could not hide his happiness. Says he has never seen such a wonderful Acholi traditional war dance, Picwah boastfully admitted.
"I never know that Acholi traditional cultural dance is very rich, I have a story to tell to my people in Nebbi district, about how Otole dance is so classic." Gulu base journalist hopefully will tell his mother.
By 3.00PM on Friday August 30th 2019, mother of heavy earth clouds was hovering high in the sky on Gulu City, one mother called Akello Acii lamented in Luo that, ''Kot obino ma Ayom dene". Literally meaning the head of hailing storm is forcing Monkey to commit suicide.
Then at around 4.00PM some group of Laraka Raka, the Luo youth dancer started to trickle in at Acholi Ker Kwaro palace one by one, what were the cause for their disarray. Bernard Obwoyo one of the organizer says rain has scatter the people, this means that since there was no tents which was build to take care of the event, the launching will be put to an end for the much awaited colorful launch
Little later, there were numbers of vehicles that started arriving with some of the family members, by 4.30pm normalcy begin to take shape when David Amone, the minister of production Acholi KK arrive, an eyes witness who was in the company of Mr. Oboyo recalled.
Finally, the master of ceremony began to rearrange and made a courtesy call appealing to audiences to converse to the venues where the function was supposed to take place.
However, curtain raiser Laraka raka dancers from Lumule, Pawidi were invited to welcome the dignitary  who was none, but Rwot Patiko chiefdom Collin Atiko II, and Okello Lawoko former Director of Radio Uganda, among the others.
In the program, there were some interlude, things like serving puddy foody, later on Jomeo Richard P'Mao was asked to present the poem, which is another food for thought menu on Acholi Conference launch.
Then came the Madi-Opei Acholi traditional Otole war dance, Mr. Ochola Mark Baker, one of the organizers who managed to bring the Otole dance from Kitgum was smiling from a distance.
The Otole dancers crown the day of the launch, they captivating the audience, during the Otole dance people climb the wall of  Acholi KK climb  to have a look at Otole dance.
Romeo Odong  singer was invited to resent his song for the launch, the song is about Acholi Agenda, which cord name "Wan Acel"  big crowds moved in circular, the elderly people who could not joint in Odong Romeo was Mr. Jok-kene and Mr. Lawoko. and Jack Lakana who came all the way from London to witness the function
However, Rwot Patiko Collin Atiko who officiated the launch says today Friday, August 30th 2019. Acholi Chiefdoms has recognized the calls for Acholi Economic Conference Forum that schedule to take place on December 19th to 22th 2019 at Sir Samuel Baker in Gulu City, Rwot Atiko confirmed.
Rwot Collin Atiko argues that although Rwot David Achana is on official duty in the USA, he has delegated him to stand in for him, nothing would stop Acholi Conference to take place with or without, Rwot Atiko urge
Ms. Akello Lutara who addressed media soon after the launch at Acholi KK says nothing would stop the Acholi Conference Forum meeting that will take place late in 2019.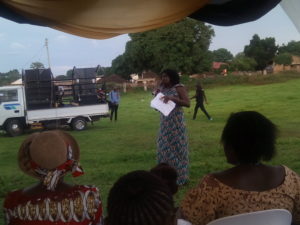 Ms. Akello says despite that fact that big shorts like Acholi Parliamentary Groups and all political bigwig the like of Mr. Norbert Mao DP party Presidential General, and Dr. Ambassador John Olara Otunnu avoided the function, but those who grace the launch are the beacon of hope for Acholi.
"I want to tell you that today Acholi Conference Forum launch has put an end to much awaited call for Acholi revolution, those who are with us, will joint the struggle for Acholi Agenda what come may. We need to move forward to get out of the current quagmire." Ms. Akello declared.
Who is Ms. Akello Christine Lutara, little is known about her in Acholi, and Uganda at large, because she lived outside Uganda for Many years.
Many critics in Uganda and in Gulu in general say Ms. Akello Lutara her being associated with Atiak Sugar Works of Dr. Amina has tainted her image, while others intimated that she close  associate to Gen. Salim Saleh Museveni's brother.
However, when Ms. Akello Lutara came out some three months ago, all the Acholi in the Country and those who lives in Diaspora has been on looker for planned scotch-earth policy.