UGANDA: MUSEVENI MOURNS ACHOLI CHIEF ANANIYA AKERA EDUCATIONIST, THE PIONEER OF TOBACCO COMMERCIAL FARM IN AFRICA.
The late Ananiya Akera KERWEGI leave behind his will for President Museveni to build Girl's Education University in Omoro district, for his remembrance and struggled to write Uganda Curriculum Education in the 1945.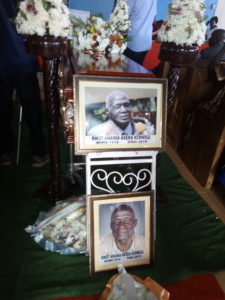 Truly; there is a silver line. President Museveni mourns the icon of historical educationist Ananiya Akera, who beat the odds in the 1930 and 1940 to go and study at Busoga College Mwiri and Makerere University while other Acholi youths were going after the Goats and Cows.
OMORO-UGANDA:  President Museveni mourns Ananiya Akera who was laid to rest beside his father Rwot Andrea Olal 1914-1968, the Puranga Chief at his ancestoral home in Bobi Paidwe, Bobi Sub County, Omoro district, northern Uganda on Saturday September 7, 2019.
President Museveni described the late Ananiya Akera as a great famer and educationist in the 1930 and 1940 while others youths was going after goats and cows he was in Mwiri Bosoga College and Makerere University, Museveni echoed.
"Indeed he was a pioneer of education, He thought the Late President Dr. Apollo Milton Obote, the late St Janani Luwum, the late Wilson Lutara. He became African commercial tobacco farmer by 1940. I remembered he told me that he defied his father advised, who wanted him to remain in education, but he opted for farming, this is the big challenge." Museveni wondered.
Museveni repeatedly says for him he was educationist, in fact. "I was reading in the paper that his father wanted him to remain a teacher, but he opted for Agriculture." Museveni told mourners.
President Museveni says in 1968 when he came for study tour in northern Uganda, he saw the late Akera farm at Lakwatomer, the tobacco farm and Heifer cattle was doing well. But when the late Akera joined politics in 1948 and later when President Amin took over power in 1971, he saw there corruption growth in the government every things could not be okay.
In 1970s, because of bad leadership in the government, he had to run out for his life, many people were killed. The like of Obonyo Jino, Elijah Latim, Gaper Okello and many others were slain by the then Uganda dictator Amin, Museveni narrates.
"It was worst for a famer like the late Ananiya Akera, his properties were destroyed. The young people like us who were born when the late Akera was there, our groups said we have immediate solutions for a change.
Others leaders were not willing to give us time, but the late Akera was saying the young people should be given chance to rule. He was the man who was giving time to young generation to rule.
He was humility because he could give his time to allow peace, we shall all die, but what legacy would we leave behind, Museveni decries.
Jacob Oulanyah the Deputy Speakers of 9th Uganda Parliament, praise the late Ananiya Akera that he has gone down in history. Oulanyah expressiveness admitted.
"Retired Bishop MaCnold Baker Ochola said here in this compound money was being dried here in the open you cone and get pocket money go to school." In this pull pit, Oulanyah wondered.
Adding that Ananiya Akera was the greatest Landlord in this region, in 1968 Ananiya Akera, Lord Andrew Adimola, Wilson Lutara, Elijah Latim, Onego-Bel were the greatest commercial farmers.
Those people had combined harvesters' machine, Oulanyah revealed.
Ananiya Akera has been a politician, a great Acholi leader who served his community with diligent, should be remembered.
"I welcome you His Excellency President Museveni to talk to people, May God Bless you, you are a star, the moon." Oulanyah says.
According to Ananiya Akera's words when he was still alive, he said in 1950 he was the only one who had lagest tobacco farm in the country he would import over 60 tones of raw Tobacco to Kenya.
"I was the best Tobacco grower in the Sub Sarah Africa, even Zimbabwe, even the White settler in South Africa were not producing Tobacco more than me." Ananiya Akera boastfully reasoned.
Akera further argued that the Anyanya unrest in 1956   between Major Gen Joseph Lagur and Gen Saddick Al-madi broke out, he recruited many about 600 Sudanese refugees who fled the Anyanya war.
At the time when the government of Uganda had no money Akera said he could pay salary of the civil servants for 6 months.
In 1968 Akera led the five committees of Acholi district council under the District Chairman Okidi Poromoi, Okeny Tibero Atwoma, Alipayo Oloya, and Julius Peter Abe to meet Dr. Apollo Milton Obote when remove the construction of the Spinning Mill which was supposed to be build in Gulu-Puranga. But instead the Spinning Mill was constructed in Lira.
He was therefore fired by President Milton Obote from the Secretary General position  of Acholi sub region
Utility.
In 1971 when President Idi Amin took over the helm of government from the first Independent elected government of Dr. Apollo Milton Obote, Ananiya Akera and thousands of Acholi sons and daughters fled the Amin government.
Thousands were brutally killed and over 10,000 souls of Acholi and Lango sons who were working in Uganda Army were either arrested, or killed in cold blood.
The Karuma Bridge was nicknamed Golgotha, in 1977 the Acholi and Lango sons who were army officer serving in Masaka garrison, seven Lorries of Army Officers were arrested and detained at Nakasero state lodge dungeon  .
In 1972 after Gen. Amin took over the soldiers especially Acholi and Lango sons were paraded, murdered in Moroto garrison
The dawn of President Amin killing ended the lives of Dt Janani Luwum, Lt.Col. Oboth Fumbi, IGP Lt. Col. Eroniya Oryema.
When Gen. Museveni took over the government in 1986, thousands sons and daughters of Acholi fled the country, and tenth hundred thousands are still living in self exile.
The Human Rights watchdogs accused Ugandan army for carrying heinous crimes in Bur-coro in Gulu in 1986, and the then National Resistance Army was accused of burning people alive in the train in Kumi district in Eastern Uganda.
The death of former Attorney General Francis Ayume, The Mayobo, Major Gen. Julius Oketta, Col. Walter Ochora, and admission of Security Minister that Uganda are being kept in safe house is not far from the dungeon of Amin state lodge Nakasero.