UGANDA: DIPLOMATIC ROW BETWEEN JAPAN AND KOREA THREATENS $18 MILLION ROAD CONSTRUCTION IN NORTHERN UGANDA.  
Japanese International Cooperation Agency Construction (JICA) who is currently constructing roads in Gulu Municipality is in extended battle or re-awaking their Korea-Japan historical differences. The Korean high diplomacy has been engaging Acholi Traditional cultural leaders to build Acholi chiefdom palace in order to kick Japanese out of East Africa.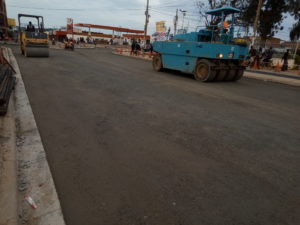 The JICA constructed 6.04 kilometers road in Gulu Municipality Central Business District, the best modern road infrastructure in the region is being entangled by Koreans. And yet JICA in the second phase construction are going to build Gulu Regional Referral Hospital, report from Gulu District Local Council indicates.
GULU-UGANDA: Oola Patrick Lumumba Chairman Local Council III of Bar Dege Division, Gulu Municipality says the Japanese Construction Company is locked up in diplomacy row with Korea. The Korean wanted to take over infrastructure investment in Acholi Sub Region, Lumumba revealed.
" JICA threatens to halt rehabilitation of the 6.40 kilometer road network in Gulu Municipality when they learnt that South Korea is in an agreement with Acholi Chiefdom (Ker Kwaro) to construct Museum at Acholi paramount chief just to undermine the JICA work." Oola Lumumba reiterates.
He disclosed that the South Korean head of Acholi Chiefdom wanted to construct Museum and National Theater in Gulu. The deal was almost through if Acholi leadership did not intervened, Oola Lumumba argued.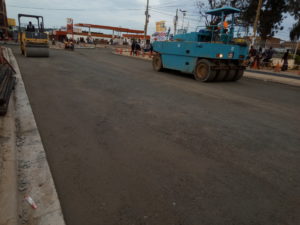 He further admitted that the head of Koreans Mission in Uganda promised to build the statue depicting how Japanese soldiers rapped their women during the World War II.
JICA Construction Company alleged that this has been routine scenario happening to them, in any Country they have investment in, later when their construction work is completed. The Korea will take up such mission of constructing museum cultural construction project in order to solve their diplomatic row;
Oola Lumumba added that this prompted Japanese Ambassador to Uganda, His Excellency Ambassador Kauaki Kameda to drive to Gulu and meet with Gulu District Chairman Martin Ojara Mapenduzi and Major Okot Lapolo, Gulu Residence District Commissioner in a closed door meeting in the office of the RDC, he noted.
"There was a total saga here in Gulu, the JICA Construction Company was parking their equipments to go away from Gulu, because of the interference of South Korea, until when Gulu District Local Council 5, Ojara and Major Okot Lapolo intervened, and ordered Ambrose Olaa the Acholi Prime Minister to stop meandering into diplomatic row of Japan and Korea." Oola Lumumba disclosed.
Adding to that, those people have been monitoring their international work progress, when asked how the Japanese did learn of the saga.
Ambrose Olaa when contacted about the diplomatic row between Japanese and South Korea opted to refer Oyeng Yeng news Editor to Martin Ojara Gulu District Chairman, and George Labeja, the Mayor for Gulu Municipality.
"I know little about the Diplomatic row between the Japanese and South Koreans, you can contact the office of the Mayor or the office of Chairman Gulu Local Councilor 5, they are one who knows about the matter." Olaa the Prime minister of Acholi Ker Kwaro reiterates.
Major Okot Lapolo, Gulu District Residence Commissioner plaid ignorance when contacted, he could not neither confirm nor denied the fuse between Japan and Korea.
"I am in the meeting, call me back, I am not aware about the Korea and Japan diplomatic row in Gulu." Major Okot Lapolo commented.
George Labeja, the Mayor of Gulu City distanced himself, and repeatedly says he is in the meeting.
Major Santo Okot Lapolo, Gulu Residence Commissioner (RDC) who shared the top level Diplomatic meeting in his office three weeks ago when contacted, denied being involved.
"I am in the meeting ring me later,." Major Lapolo hung his phone.
JICA still on their mission to construct Gulu Regional Referral Hospital,and they still left with the construction of 7 kilometers Road in Gulu mean while the Koreans are advised to go develop Kitgum District if they want any developmental endeavors in the region.
The political pundit in the Great Lakes Region argued that, the Japan-Korea Diplomatic row is just a tip of the iceberg.  The problem is with Uganda dictator Museveni, if Japanese and Koreans are fighting for investment space, it meant the Eastern World, and Asian Countries in general has taken over the interest of the West.
What is likely to happen with dictator Museveni is not far from the like Iraqi tyrant Sadam Hussein and the Libya strongman Mohamed Gaddafi, history will judge us.
Ends