UGANDA: ACHOLI MEMBER OF PARLIAMENT WANTS UGANDA PEOPLES DEFENSE FORCES (UPDF) TO MILITARIZE NORTHERN UGANDA.
Ronald Reagan Okumu the Aswah MP bunch back, boastfully says without him there is no Forum for Democratic Change (FDC) in northern Uganda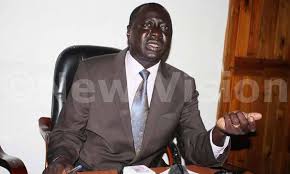 Rwanda nationals through their agents are behind insecurity and forceful grabbing of land(Acholi Sub Region) in Palaro and Paibona Sub Counties, the MP is accusing Opiyo Atiker, the areas Councilor 5 for Awach Sub County and Patrick Ngole, the chairman  Palaro Sub County lower local government  that there are  agents of Rwandese Balalu who  are part of insecurity in Gulu district.
GULU-UGANDA: Ronald Reagan Okumu on Thursday September 19, 2019 emerged from his five bed rooms house in the heart of Gulu municipality looking a bit healthy in recovery of a long illness that took him away from parliament for over a year.
He appeared after 50 minutes of waiting, walked from behind the pressmen as he apologized to the journalists who were nearly losing patient.
"I am sorry to delay you for 50 minuets because of some other guests which came in to meet me" Okumu in remorseful tone.
He quickly took his seat and greeted the journalists as he positioned himself well in the chair.
Having settled for a while, he turned on to the Journalists and told them why he needed their attention.
"There are three issues  here  to address, first is about security situation in Gulu District and Northern Uganda, the others are abut  about Forum for Democratic Change (FDC) Party and leadership in Acholi Sub Region."
Okumu lambasted Major Santo Okot Lapolo, the Residence District Commissioner for Gulu over what he termed as a reckless statement on the new rebel activity in Gulu.
"It's not the first time Lapolo is talking about new rebel in Northern Uganda, he made a similar claim in 2013 when he was still at Pader at RDC and he repeatedly continues" Okumu claims.
He accused police and other top security personnel in the Uganda People's Defense Forces for the rising insecurity in the region alleging that police have on several occasions seen waylaying charcoal dealers Awach Sub County.
"They are hiring  guns from the armed forces, some of whom are UPDF personnel ,Internal Security Organization to come to Northern Uganda in the control of national resources, like oil and gas and so on, this is looting"  Okumu insinuated.
He further blamed police for failing supporting charcoal business in the region where they have been offering escort to the charcoal dealers along Gulu to Kampala high way.
He has however demanded UPDF 4th Infantry Division to take up full security of the area adding that police have failed to maintain law and order in the region.
However, he claimed that the current state of insecurity in the region is being orchestrated by one called Jackson Odur, an Hon. MP for Kiryadongo District and his Rwandese associates.
I visited the Balalu in Palaro and when I asked for their identities, I was shocked when they produced Rwandese identity cards, this confirmed that they are foreigners" Okumu further alleges
However, he reveled that they have frequently been holding meeting with high profiles in Acholi, religious leaders, police and UPDF 4th Division Infantry Battalion on the security of the region though he didn't disclose  the resolutions of the meetings.
"When I was bedridden, I had been watching televisions and what I witnessed from the region is poor leadership in the region which has generated insecurity in the area" Okumu added.
But he says the UPDF 4th Division Infantry Commander Brigadier Bonny Bwmesikie has dismissed the new rebel activity in the North.
He revealed that the army commander told them that the problem at hand in the region is the impacts of the long term conflict giving rise to new set of problems among others include drug abuse, poverty and idleness.
He further told the media that the army has consented with leadership of Acholi sub region about post war programming which have not targeted the youth in specific making them more vulnerable in the face of rehabilitation.
Okumu however maintained that the UPDF has better structure to counter crime in the region than police and demanded for heavy deployment of CMI Intelligence in the region.
OKUMU AND THE FDC PARTY
On the fate of Forum for Democratic Change (FDC) and its leadership in the region, Okumu believes that he has been the face of the Party in the Region  and that without him FDC will cease  support in the region.
"Forum for Democratic Change has been heavily infiltrated by National Resistance Movement Party, when the former President for FDC party Dr. Kizza Besigye came here, those you saw escorting him were the agents of NRM party, Okumu lamented.
Okumu insinuated that the question of People's Government as pressure group within the FDC does not exist, saying, people's government has been hijacked by the NRM operatives, It's not in FDC constitution and  those who are calling meeting for People's Power must be arrested.
However, the question of political opposition parties in the country being infiltrated by the ruling NRM party has not only been a cry to one single party but majority which includes UPC Democratic Party alike.