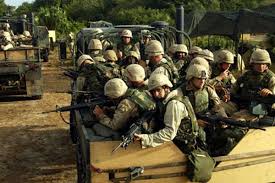 UGANDA: UGANDA PEOPLE'S DEFENSE FORCES(UPDF) TAKES OVER GULU HIT MAN SURVIVOR
American Marine Forces who survived assassination being shield by Uganda Army
KAMPALA: UGANDA: The  American Marine Forces who survived the ill fate ambush in Gulu, at Paichor Sub County a week ago by an known gunmen,is now under UPDF protection.
Hon Okumu Ronald Reagan appear to address the press conference in Gulu on Monday early this week accused some unknown assailant who they were in mission to kill the American Marine forces on Tuesday September 15, he told the press.
Flex Nyero a residence of Angaya village in Paichor was ambushed by unknown gun men, whom Hon Okumu described and believed to be those goon who are part of security wave  in the region, he also accused  the Balalu guns waling who are causing insecurity in Gulu District and Acholi Sub Region.
Okumu says the American Marine who was the victim of the aborted murder  was approaching his home, when he came under heavy guns  fire, but  the victims  escaped because of his military experienced, Okumu told press briefing in Gulu..
"When Nyero who was driving his vehicle was  nearing his gate, the guns men open several bullets on his car, but he dodged them and escape an hurt. he was under heavy fired, behind him  was a lead car  trailing  him at distance of about 100 meter."Hon. Okumu  in serious mood told media briefing in Gulu on Monday
Nyero when contact by Oyeng Yeng News Editor in Kampala says  he was almost kill when his vehicle was attacked at around 8.30 pm while he approaching his gate in Angaya village.
Nyero is now reallocated to Kampala after the  aborted murder says he still live in fear, but the UPDF has given him military escort
"My friend Oyeng yeng if I am not  a trained American Marine, those hits squad would have finished me, I was short seven bullets at cross range. Those murders wanted to put even  pullets at my ears man, I could not fight back because to face 7 guns men with single hand, you would be a polish mad man, I have to takes covered." Nyero narrated.
he further  reveals that after the incidence the people who he believed to be behind the planned, they are  sending  messages through whatsapp. when arrested they must face the law of the land, Nyero warns