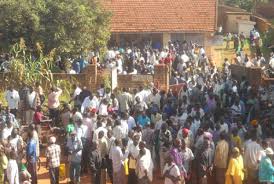 UGANDA: ACHOLI ELDERS POSE TO EXTINCT, ARE ENDANGERS SPCICES
ACHOLI War Debt Claimants Association is causing sleepiness life to Kampala regime, the planned under way to reduce their numbers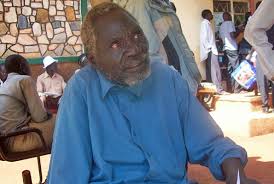 The silent of guns does not means end of conflict, after long years of Northern Uganda unrest, the aftermath LRA war the death tool in Acholi Sub Region has reach over 10,000 people from January to July, Oyeng Yeng News finding has revealed. Extinct
The high death rate ranges from young children age 5 -17 years old, while old generation has been suffered too. Among the prominent people who felt victims are Rwot Ananiya Akera passed on at the age of 107 years old. Rwot George William Lugai passed on at 93 years old, due to cancer after a long illness.
The late Ongaba Lyelmio Otong 72 year old, the former Managing Director of National Social Security Fund NSSF, former Director General of Uganda National Worker Union "NUTU" died of the Diabetic.
This year August 2019, Acholi Traditional Cultural leadership through Lagoro deity casted out demonic through traditional cleansing. Lagoro deity claimed that Acholi land have been invaded by infectious disease like Ebola epidemic, Hepatices B and C syndrome nodding syndrome disease and measles, Acholi deity acclaimed.       
GULU-UGNADA: On Thursday October 3rd 2019, Oyeng Yeng News hacker intercepted wire cable information, the plan to eliminate Acholi War Debt Claimants' Association as the Acholi Elders demand their cattle compensations has hit sang.
During northern Uganda long conflict the National Resistance Army NRA, the government forces raided cattle from Acholi, Lango and Teso Sub Regions, however, the communities.
In 2008 group of elders from Acholi Sub Region led by Robert Adyera opted for litigation and dragged the Attorney General to court, but Uganda government asked for negotiation out of court.
Later on the Uganda Government released UGX 1.5 billion and in year 2010, and later UGX 1.4 billion was released to splitter group of Acholi War Debt Claimants Association under the leadership of Eng Opwonya, but later in 2011 after validation of the livestock lost in Acholi Sub Region, which was done. The team from Attorney General Office discovered that 38,000 claimants are the true beneficiaries.
Eng Noah Opwonya who is the Chairperson of Acholi War Debt Claimants Association says they are demanding UGX 7 trillion from the government of Uganda.
"When the validation verification took place in 2011, we discovered 38,000 people lost their cattle during northern Uganda insurgency, we want government of Uganda to compensate us." Eng. Noah Opwanya said.
Eng. Opwonya under his leadership, they got UGX 5 billion for compensation, but only management to pay few people.
Since 2013 the government of Uganda has turned deft ears, against Acholi War Debt Claimants Association demand, thousands of the beneficiaries have died without getting their cattle compensation from the government.
Mr. Ogwok David one of the elder from Padibbe Sub County, in Lamwo District Northern Uganda says from January to July, over 1,000 elders who were supposed to get compensated for their animals looted by the NRA soldiers during insurgency in Acholi Sub Region, died hungry without compensation, Ogwok narrates
"I witnessed how the elder people could not afford meals in June and July, many of those who died, they died because food was not there, if they were compensated, they would still be alive." Ogwok reiterates.
Aboga John 82 years old, from Opit who is one of the member of Acholi War Debt Claimants Association says many of elders from Lalogi Sub County including the late Ocheng Julius died in 2017 while crying that he will never get compensated from the animals which was looted during northern Uganda conflict.
"I lost 40 head of cattle which was looted during northern Uganda unrest, my brother Ocheng Julius also lost over 100 head of cattle. Unfortunately he died and I know I will also die before I get my compensated." Aboga decries.
Robert Adyera on Thursday October summon all Acholi War Debt Claimants who lost their animals from 1986 to report to Gulu District Council Hall, says those who loses their animals should be register again.
Over 1,000 elders who claimed that they belong to Acholi War Debt Claimants Association reported for registration.
According to the cable wire information hacker got about the planned alienation of the Acholi elders who are claiming to be paid.
The whistle blower hacked cable information for the planned moved to eliminates elders who turned up for the meeting.
More details remains top secret.
This is genocide, no wonder more that 10,000 people died at the beginning to this year 2019.
One of the operative who talk to Oyeng Yeng News who asked for anomy's confirmed that Acholi War Debt Claimants posed big threats to National Resistance Movement NRM, since whenever President Museveni comes to Acholi Sub Region. These groups of people keep on asking President Museveni the same question.
"In deed you are rights if you got information that the elders are to be kills, because the question of Acholi War Debt Claimants is now a headed to Museveni, President Museveni is now tired of the cattle compensation issues, if there is any way to dealt with them, government would do anything's." Intelligence sources confirmed
The issues of Acholi War Debt Claimants will be top on Agenda come 2021 president polls, the government is willing to pay them but, prefer to pay few people after doing away with some members
Hon Okumu Ronald Reagan says the issues of cattle compensation should not be demanded from the government of Uganda, since Northern Uganda are demanding reparation and truth telling commission.
"Soon Parliament is passing reparation bill, and cattle compensation is part of the packages, fro me I prefer reparation rather cattle compensation." Okumu Reagan told press in Gulu