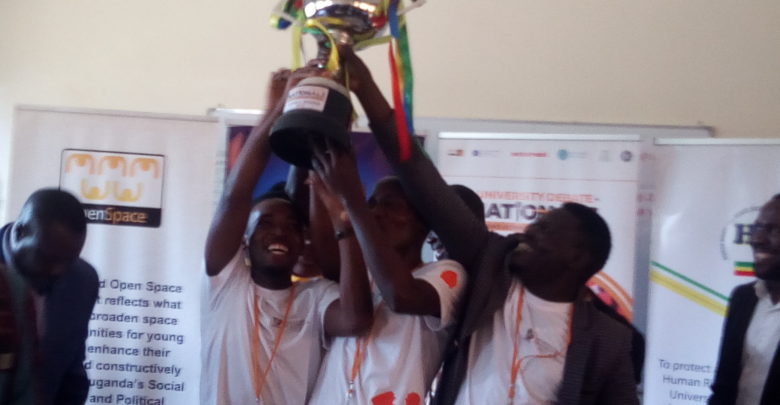 UGANDA: DON'T DESTROY OUR COUNTRY, WAIT FOR ELECTORAL REFORM BILL-DEPUTY SPEAKER.
Payira queen mother developed conflict theory when she could not give matching order for war to her son against her people (Okumu Livingstone Langol 2019 Puranga)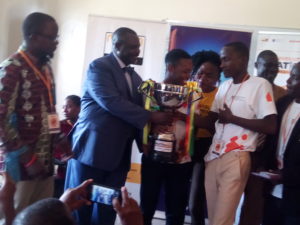 We don't want the violent that happened into Kenya in 2007 between President Uhuru Kenyatta and Raila Amollo Odinga, where their supporters took to the streets and the Country descended into chaos, later Kenyans murdered themselves until Kofi Annan, the former UN Secretary General intervened to calm down the situation.
"I advise Ugandans to remain silent for the sake of peace, we should not destroy our country because people want political reform, the electoral reform bill which is before parliament, we are going to pass it into an act. Let Ugandans be patient and wait for us to make election reform law that will take care for all political divides."  Oulanyah reiterates.
Oulanyah was the chief guest at Gulu University to officiate the inter Universities "Open Space Debating Club" computation between 48 clubs of inter Universities in Uganda and Kenya. 
GULU-UGANDA: At about 3:30pm local time, (0130 GMT). It was raining in Gulu City when Jacob Oulanyah dressed in black bow-tie, bluish black suit with matching white shirt on to the pulpit to address 48 Debating inter Universities debating Clubs at Gulu University.
To a new comer who has just met Uganda Deputy House Speaker for the first time would even see glittering beaming pimple face of Oulanyah, which was a happy moment for him.
Why? Because he was the president of Northern Uganda debating Club in 1985, during a hay day when he was a student at Dr.Obote College in Lira, Northern Uganda.
When he took to the pulpit, the Deputy Speaker says, "I greet you all." But I have known one journalist sitting here, one called Livingstone Okumu Langol for a long time, I want to introduce him, Okumu Lumu'te, he says with bemusement to the audiences.
"John Livingstone Okumu Langol, in the 1980s when the parliament would sometime come up with bad law against Northern Uganda, he would come out with controversial story in his News Paper called "Oyeng Yeng" literally meaning Earthquake publications, which would force the parliament to correct the policy." Jacob Oulanyah astonished.
The debating hall was parked to capacity, that some of the on lookers were peeping watching him through glasses; the debating Clubs were in faculty of Gulu University department of Agriculture, where the Open Space Debate was booked for the nine day, according to adjudicator.
Okumu langol as a private citizen and me in 1997, filed a case against Government of Uganda for selling former Custodian Board properties and coming up with the privatization law without passing through the parliament of the Republic of Uganda. The case was very successful, it made reform in the government, Oulanyah revealed.
"I am happy to tell you that we won the case against bad law which was used, now the government of Uganda is implementing it the out come of the case." Oulanyah echoed.
He says, he was in French for official duty, but he has to cut his journey two days to come and officiated the function because Jeremiah in charge of open space debate had invited him.
Oulanyah love for debate
He told the audience that when he was in senior two at St. Joseph College Layibi, he was a good debater. But the question was he was too short like Biblical Jacob, when he was at podium, because he was short. They had to build for him wooden platform to allow him to be seen while debating.
Jacob Oulanyah says had it not been for the coup of 1985, he would be very far, because being a Sumption of debater. Leaders who took over power from Dr.  Milton Obote did not want to see and entertain debating club anymore.
The theme for this debate "voters for 2021 Uganda general elections, are people going to participate any more, we did not see you or hear you speaking on voters empathy." why?
"I want to lecture for those people who are not voting during election, but leaders are elected by the people. I argue you to go and register those who have not register, go and register for the fourth coming presidential election in 2021."
On Makerere University strike
In Makerere University the student strike has been very destructive and the police used over handiness to control the chaos, we did not allow our history to go in that way. First participation, second participation and the third participation of strikes.
Oulanyah wondered says what level of energy we bring, don't fight negatively, but bring positive things, he asks what legacy do you bring when you strike.
When we reflected on election in Kenya, says in 2007 he was attending the Sunday mass, when the Archbishop of Kenya Anglican Church raised up to preach. The national anthem was raised, and it was all over Kenyans churches, born again churches, Catholic Churches and even in mosque.
Adding that Kenyan vowed that the bad election will not take place again in their nation, and in 2017 when election was alleged to have been rigged, Kenyans went to court instead of destroying their country.
Oulanyah says we have our own which is coming; we must agree that new things should come.
"You know what we can do in this room, we can rearrange this room, but if the change people want is to destroy this building, it means we are not responsible for our destiny." Oulanyah warned.
He argues that we need to go silent to make change, says he was here in Gulu when the storm was coming to Gulu from Arua, West Nile region to block Dr. Kizza Besigye and Norbert Mao leaders of opposition parties. He went to Northern Uganda Regional Police Commander and Gulu UPDF 4TH Division Commander and told them not to used forces against the coming storm, Oulanyah reveled.
When the opposition parties had their free public speech here at Kaunda ground, was there any international media report? , there was no chaos.
Adding that in 2006 election that made him to parliament, it was though reform, that was made in 2010.the changed was to make a reform to accommodate Ugandans political  interest.
He argues why? The bills are there in parliament for preparation of 2021 presidential polls.
Ugandans should not get worry for the fourth coming president polls, saying if you are weak you die, there are no world that favor the weak.
Work better when the other debaters are big and strong are the kind of debate always affect people, "Debate always on provocative."
In parabolic gesture he summarized the overall debate that he officiated between the finalist Mbarara University technology and Uganda Christine University Mukono says Adjudicator presenting the wining team of this debate was true Acholi mother.
The Adjudicator in her wisdom says she was not able to declare which team won the debate, but says "kun coo kun coo" literally it mean draw game to her. But the penal of judges should come with their verdicts.
"The War in Acholi the final word to command the forces is given by woman, there was war between Payira chiefdom, and Labong chiefdom in Acholi, and it happened that Rwot Aliker was going to wage war against his uncle the Labongo chiefdom."Oulanyh urged.
The Queen mother was caught between the rocks because she loved her motherland Labongo, and also she loved her people of Payira because of being neutral (Okumu Livingstone Langol a social student of Team University on Acholi Sociological context 2019)
Aliker chief of Payira his mother queen of Payira chiefdom was supposed to sanction the war her motherland Labong chiefdom and give "Oboke Olwedo" her last word, she weighed between giving her son the last word to waged war against her motherland.
Aliker mother who got married to Payira her relationship is social contract theory whereas with her motherland is blood relationship, "blood is thicker than water" with   Labong chiefdom.
The queen of Payira stopped her son and gave guidance not to levy war against his uncle the Labong chiefdom which is a conflict theory. The queen saw that her son was only competing for national resources, because he wants to annex territory, enriching himself with sources which was in Labongo chiefdom.
According to the prominent sociological theory that is often contrasted with structural-functionalism is conflict theory. Karl Marx is considered the father of conflict theory. Conflict theory argues that society is not best understood as a complex system striving for equilibrium but rather as a competition. Society is made up of individuals competing for limited resources (e.g., money, leisure, sexual partners, etc.). Broader social structures and organizations (e.g., religions, government, etc.) reflect the competition for resources in their inherent inequalities; some people and organizations have more resources (i.e., power and influence) and use those resources to maintain their positions of power in society that is a conflict of theory.
Jacob Oulanyah says don't "destroy" the country the bill is before parliament we are "implementing", the reform bill, he is also acting in the same vine like Payira queen mother, because he wants to be neutral hence associated himself with the theory of conflict and neutral theory, because he is also caught between a rocks  like the Payira queen mother.
The queen mother ordered that, "You are going to "fight" my people, "both" side will remain "draw" I am blessing your party both of you will meet equal power, "Kun coo Kun coo" literally mean each side to the war has men, the rights of Acholi women she defended.
In my analytical view her social contract was marriage to Payira chiefdom but her position was to protect her people from Labongo chiefdom not to be defeated and enslaved by her son.
According Catherine Macaulay who fought so hard so that the impartial observer could not allow herself to be "perplexed or disgusted" by foreign practices that she could not personally reconcile herself with. Yet at the same time she saw the goal of sociology to be the fair but critical assessment of the moral status of a culture. In particular, the goal of sociology was to challenge forms of racial, sexual, or class domination in the name of autonomy, the right of every person to be a "self-directing moral being.
The Queen mother of Payira is sociology of the late 18 Century she was the first African woman who stood for the rights of the voiceless and voiceless women to stop inter tribal conflict among the central Lwo of Uganda.
In addition her word "kun coo kun coo" became a norm and cultural practice in enforcing that a Acholi woman who is a royal queen their words is final and per takes all social , economical , political affair and the rampant misfortune that per takes life of Acholi people is to people tendency of going against the belief.
In Acholi traditional belief you can not buy motor vehicle, household without the consent of the woman.