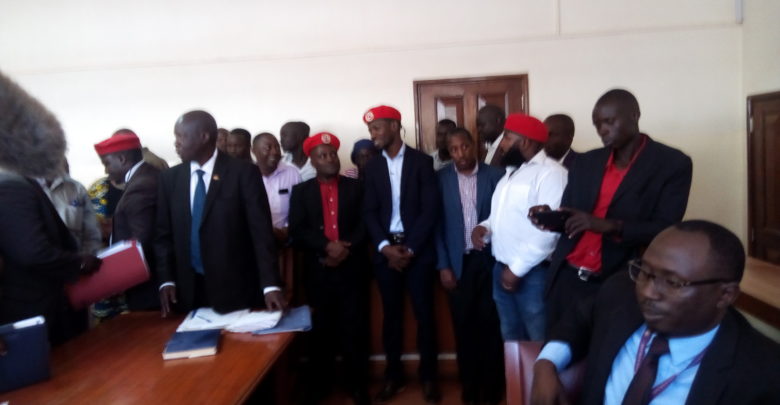 UGANDA: ROBERT KYAGULANYI THE PEOPLE'S POWER OPPOSITION LEADERS ARRESTED IN KAMPALA- KITGUM RDC BLOCK PEOPLES' POWER POLITICAL CONSULTATION
Kitgum Residence District Commissioner R.D.C surrounds Kitgum Hotel, deployed UPDF and Uganda Police Forces to block Robert Kyagulanyi consultation, Gulu Youth vow to defile Government stand off
Let President Museveni know that Libyan President Mohamed GadafiI, and former President Al-Bashir strongman they were stronger than him. They had more jets, Tankers and mass weapons. But where are they now?  But with God, when the wind of change come your military guards will not help.
Patrick Jimmy Okema the Northern Uganda Police Spokesperson denied that neither the UPDF nor Uganda Police took place in blocking the People Power consultation meeting in Kitgum, "As far I am concern, it is the management of Hotel in Kitgum who blocked Bobi Wine consultation." Okema implied.
GULU-UGANDA: Uganda Police Forces including military plain clothes arrested the Opposition Leader Robert Kyagulanyi Sentamuo today in Kampala and a numbers of journalists crews accompany him in his first tour consultation at Gayaza 11 kilometer North of Kampala suburb
Bobi Wine has however, been arrested by the police at Gayaza today when going to his venue to make is first consultation meeting bid for 2021 come general election as a presidential candidates and transferred to Nagalaama detention center.
The teams of Journalists as well has been arrested on their duty as they were covering stories, by the press time Gayaza city suburb has been deserted.
The political count down to 2021 is taking shape, as The People's Power is moving to challenge Uganda Despot leader Museveni 34 rule. Ugandans are yearning to political change; Robert Kyagulanyi is likely to form political alliance with Dr. Pizza Besigye  who has been clanging President Museveni for from 2001.
The 2020 political storm is building up in Uganda leading to 2021 presidential polls, although the ruling political government of National Resistance Movement led by Uganda tyranny Museveni so far has failed to come up with electoral law reform that gives the opposition parties leverage to appoint electoral commissioners.
The opposition ally to Robert Kyagulanyi a.k Bobi Wine led by Olanya Olenge today January 6,2020 hold a press conference in Gulu vow to go on with the People Power consultation with or without the People Power's President Kyagulanyi in Northern Uganda, that schedule to kick off tomorrow in Gulu.
Olanya Olenge told Members of Northern Uganda Media Club NUMEC   that the preparation of the People Power Kyagulanyi Sentamuo as has been communicated through his social media platform is on top move; we are starting the consultations tomorrow in Hotel the Covenant in Gulu on 7th January 2020, Olanya Olenge told media.
However,  William Komakech the Kitgum Residence District Commissioner and his counterpart Jackson Omona, the Chairman Kitgum Local Council V they have blocked the Opposition People's Power consultation in Kitgum, Olanya Olenge mooted.
"We are warning the Kitgum RDC William Komakech and Chairman LCV Jackson Omona that be warn that he may sallow the thing they are not ready for it, we are doing the wrong to them." Olanya Olenge warns.
Adding that Gulu youths is ready prepare to turn up in big numbers, we appeals to youths who wanted our country to be liberated to turn up in big numbers, Olanya Olenge reiterates.
He says we are focus what we are called for transformative community human rights for all the people should not be compromised, and we are making the leaders to be confirmative, Olanya Olenge reasoned.
Gladys Laker, the People's Power Northern Uganda Women League says there is a lot of intimidations and mistreatment from the ruling party National Resistance Movement NRM, why state fears the opposition." She lamented.
"I don't see anything wrong for the consultation for Bobi Wine; the People's Power is coming with big consultation forces, some of them are leaders we are meeting them. We don't know what is going on, the people of Uganda is being intimidated we are saying many things, revolution has two side, the victims and survivors..
"All of us are coming in or on the streets and match on peaceful demonstration on Gulu City streets. I am appealing to  youths to be humble, they are saying youth of People's Power are violent, we need to humble ourselves now the government is associating People's Power youths to violence, right in Gulu here they are calling our youth Agoo " Laker argued.
Ogoni says Kitgum RDC have deployed UPDF and plain clothes personnel around Kitgum Hotel which was booked to host the People 's Power to stop us, the RDC is making cheap popularity and will not help him, may be he want to be appointed state minister like Mrs. Betarice Anywar. Look at Museveni generals, how many are behind the bars, he asserted.
"If you think you have tankers, jets and missal, when the wind of change comes, your guns will not be any more of help. This is spirit of patriotism; I call upon you to keep up spirit."
His teams in the northern Uganda said they will continue with consultation meetings up to the districts of Adjumani, Yumbe, Arua and Zombo respectively.