UGANDA: ACHOLI COMMUNITY HAS CHRONIC POVERTY-WORLD BANK DIRECTOR
Before the advent of the 1986, when President Museveni toppled Gen. Okello Tito Lutwa northern Uganda was beacon of hope, the Amuru community were the leading growers of rice. But now Amuru community have become the shadow of it former glory.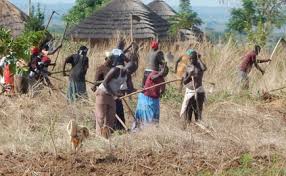 Farmers in Northern Uganda still used hand hoes, where are the Agricultural mechanization that used to be like Labora Middle North Tobacco, Asak Groups Farm, and many other
AMURU-UGANDA: Amuru district is one of the most fertile Districts in Uganda with the largest 90 percent of arable land. Now is a white Elephant, but unfortunate bit of it is that land grabbing in Amuru district tops list in Northern Uganda.
Lakang 40,000 hectors, the proposed Madhvani Company Sugar Works lies 60 kilometers westward from Amuru Otwe District headquarters, that still remains none agricultural production 11 years after the LRA conflict.
Thomson Anthony, the World Bank Country Director who toured Acholi Sub Region in October 2018, in his presentation says Northern Uganda has chronic poverty, because despite the fact that Acholi Sub Region has the largest arable land in Uganda, the land remains unproductive.
Retired UN Official Okello Mark also concurred with World Bank Country Director Position that Northern Uganda has chronic poverty although there are big commercial farming in Amuru District, but still the majority of people in Amuru are lagging behind in agricultural production, Okello urged.
"In every household per annum the average outputs do not reach 1 tones of the production, because people this day never take farming as a way to elevate them from poverty." Okello notes.
In the 1980s Pabbo Sub County in Amuru District was the area leading in production of Groundnut and Upland rice in Acholi Sub-Region.
The area was known as "Uganda food basket"; because people then valued farming and they were hard working and they knew without toiling there would be no food in the household.
The former UN Official notes that the new culture Acholi generation developed during the 20 years of northern Uganda conflict has destroyed reliance of hard work independency that used to be before.
"There was no homestead in Acholi community who lacked food stuff, and lived hopelessness lives." Okello wondered.
Okello wonders what the cultural leaders of Ker Kwaro Acholi are doing; "Does it means that our cultural leaders, paramount chief Rwot David Onen Acana II has failed in his obligation to provide clear directive?" he wondered.
He suggested that Rwot Acana II should coordinate with all the 53 chiefdoms in Acholi in order to make sure that forced labor should be re-enforced. He argues that most people these days wake up and start drinking and gambling during the time when people should be in the garden.
However, Hon. Nockrach Disable person Member of Parliament presenting Northern Uganda dismisses the issues that community of Amuru, Lamogi as chief are lazy this day.
"I have 300 acres of Maize plantation, the report that appeared in your paper last week in all politics." Nockrach said.
Oyengyeng newsletter last week reported that the community of Keyo, Amuru Lamogi wake up every morning and people resorted to heavy drinking, but not those commercial farmers in Amuru resort to heavy drinking
David Livingstone Amone Production Minister for Ker Kwaro Acholi supports the World Bank Country Director and the former UN Official, says, the cultural, religious, political and technical sectors of all the Local Councils I of the areas must make sure that they establish Parish Association producer committee (PPAC) to be in-charge of the managing seed supplies and value addition.
"We Acholi Ker Kwaro it our mandate to put task forces in every villages to monitor labor forces, to make sure that there is no idleness." Amone reasoned.
Adding that Ker Kwaro Acholi is in the process of synchronize agricultural production activities, such as provision of agricultural services and research in agro processing at village level of "Rwot Kweri"
However, the problem is lack of resources per say, (Principal and doctrine for production and marketing) can be handled moral leadership; this leadership will be a motivation to the community, he argued.
Amone notes that post conflict era has been a set back in leadership, because war has destroyed cooperation among the local leaders. The vulnerability in IDP camps brought inadequate cooperation among leaders; (i.e. Cultural, Political, Religious and technical) have led to low development in the sub-region.
"We need to reorganize the communities and empower them to invest in the sub-region. Holding regular meetings in Rwot Kweri community shall be representative of farmer and SACCO groups (Boli-cup). Right now there is lack of cooperation among the different groups in accessing services. Famers are moving to do their farming as individuals. This is the worst confusion in the Acholi Sub-Region" Amone laments.
v