UGANDA: GULU BASED SCRIBE SURVIVES ASSASSINATION
Thursday August 29, 2019 at 10.00PM. S.D REF 02/30/08/2O19 is my identification numbers for survival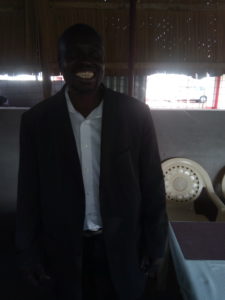 Livingstone Okumu Langol the, Managing Editor of Oyeng Yeng News Publication has survived an attack on his home at the outskirt of Gulu Town.
Read his Ordeal Below;
GULU-UGANDA: On Thursday August 29, the day has begun well to me, as usual I did my work, I had worked on FORNASA story and I called it a day.
Luck has always been with me and so it. I arrived at my rented house in Aywee by a boda boda, at my neighborhood security light was beaming which is an indication of  normalcy but little did I know the assailants were in the hideout in the premises.
I hurried to the door and opened but as I entered the room, something was not right and I could feel within myself and I briefly checked the room before getting on bed.
Everything in the house was looking well and organized but from the neighboring side, the monster had gained access to my room sailing through the ceiling board and remained up there.
However, while on bed I could hear some crackle sound though I could not figure out the direction where it was.
A moment later, it was becoming real that something exits in my ceilings.
As the sound faded, I could sense danger in the house, the echoes turned to footsteps coming down the room from up and my conscience was disturbing and that was the time I thought my security was compromised.
As the saying in Acholi goes, "Too maneko twon Gwok kwongo ki dingo ume". Literally means, what kills the old dog, first blocks his sense of smelling so I knew my time has come.
Within 30 minutes, I found myself confronting with the devil , that devil was none but presumed commandos who came to pay courtesy call, the noise of crawling which was at the distance became real  up in my ceiling.
I decided to keep my peace at this material time waiting in silence what could be the next move of my un-invited guest. After my peace felt betrayed I announced that armed and ready for them.
If they had gotten me asleep I would have been strangled on my bed but as many say that soldiers rarely forget their military guts and that whole guts filled me in seconds although my voice loudest that I had dialed police 999 number was also helpful because they started to retreat immediately.
And that was the time that I decided to go and report to Aywee Police post which is about 300 meter near by.
Aywee police station was deserted and had no single soul to rescue any citizen whose life was endangered at that time.
My first woe, which I called it Satan at work,  I came face to face with the world of no return, what could I do. The Uganda police who should have been my helper turned me down, because behind me were groups of killers, where I was heading was the world of no return, that was the situation of dilemma I faced.
From 11.00PM to 12.00pm I was alone at Aywee police station, if the duos was to fallow me, I would have been at their mercy. I decided to get a near by hideout and paused my breath all that night since looking for relatives would be the third risk and I ended up gracing the cold night like street-vagabond.
At 6:00am I trekked back to the police station in Aywee from my hideout and recorded my statement, I was accompanied by the police officer home who climbed the ceiling and only found footmarks.
The un-invited guests had back stepped to my immediate neighbors' ceiling board just where they had come from.
Owor I learnt, is one of the operative in Gulu city and this incident brought it glaring in my mind that not all gruesome murder in the town should  be heaped in the name of the street children as a mere cover up and am still on the street.