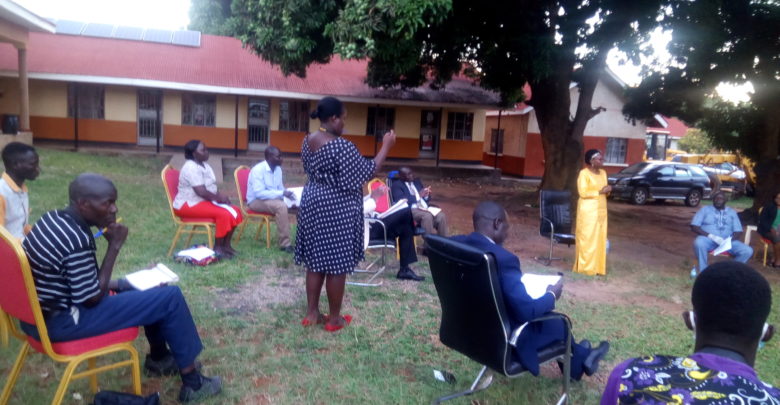 UGANDA: KENYAN TRUCK DRIVERS SPITS SALIVA ON UGX 50,000 NOTE THROW IT TO MARKET VENDORS. GULU WILL BE HITS LIKE RAKAYI
Who owns the former Uganda Trans-ocean
A woman pick it and said this coronavirus will not kill her, went and ironed it and later says she needs the money badly because she has sick patient in hospital.
Billgate and the family predicament that Africa will succumb to COVID-19 in big numbers more than the Europeans, Thousands of cops are being buried at night in Tanzania, Tanzanian citizens run across the border as Zambia closed their boarder. DR Congo are fleeing to Uganda.
Gen. Salim Saleh the brother of President Museveni and Lt. Gen. Muhoozi Kainerugaba president Museveni first son who is widely believed to the be heir for the presidency they own thousands of trailers, according to state house  impeccable sources. President Museveni just laughed during presidential state of address that, "You my son Muhoozi you want to bring me problems" and President Museveni never commented or spill the beans.
GULU-UGANDA: On a weekly Omoro Task Force, Susan Akanyo Omoro District Residence Commissioner in her own submission to the Task Force says on Thursday 8, May 2020 they have arrested two truck drivers from Acet Town Board 56kilometer from Koro Sub County, the two truck drivers sneaked from Kampala and went straight to Acet Town Board where they were enjoying their hideout.
"These two truck drivers we got them with their wives just opposite Acet Health Center III, to my surprise even the community and leaders of the area were not aware of their present. But what shocked me is that the Kenyan truck drivers had parked their trailers at the center, business was booming has usual." Akanyo Omoro RDC wondered.
She adds that they arrested the two truck drivers and placed them in Opit Isolation ward together and 8 of their accompanies took them to COVID-19 Isolation center at Opit Secondary School where they were waiting to be tested.
The Omoro RDC says when she interrogated the truck drivers, what they have got, and the Kenyan truck drivers went to Acet to buy charcoal. And those people have their agents in the all of Omoro district, those former charcoal dealers formerly from South-Western Uganda they are the agents of Kenyan truck drivers.
The RDC disclosed that the former charcoal dealers although have abandoned the trade, but they work with the community inside the rural areas, while the former are now settled in the trading center as businessmen.
Okello Douglas Okao, the Chairman of Local Government Council adds that the charcoal booming trade have changed it mode of production, says in the past people from mid-western Uganda used to cut trees for charcoal burning. But, as Omoro district local authority they have put stringent measure.
"We have realized that the market in Aromo wang-lobo in Lamala village Odek Sub County, this is where former charcoal dealers has shifted, we have burst the racket of Kenyan truck drivers, but their contact would bring COVID-19 pandemic in Omoro district." Okao lamented.
Akello Mary a seller opposite Gulu High Court says on Monday 14, May, 2020 Kenyan Truck Drivers tested positive with COVID-19, a driver of petrol tank  brought fuel in Sultan and Rock petrol stations in Layibi Center, after delivering fuel, went to Nakasero one of the suburb booked one of the lodges. He spent the night there, but in the evening he was socializing with community around Nakasero drinking joint.
Akello adds on that those who had been drinking with the Kenya truck driver, little do they knew that he was a victim of COVID-19, one of the person says they were sitting in a group of more than 10 people. That truck driver bought a big bottle of Uganda Waragi and he was sharing with them at will.
"I didn't know I was sitting with positively COVID-19 pandemic, in the evening I went to our home in Bwongatira, but when I came back I got the news that the person we were with him yesterday has been arrested." A shock man revealed.
The question now is, if the man spent the night in Nakasero, used one toilet where 20  or more residences in that block share that very toilet, how safe are the community. If over 20 people shared one drinking joint with that Kenyan truck driver, how many contact do they have, are all been arrested.
Finally, notorious Kenyan Truck Drivers were netted by Gulu district Task Force COVID-19, what led to his arrest is that every time the man was splitting saliva in the same spot near former Indian cemetery, this forced on lookers to alert the COVID-19 Task Force who later arrested him.
The Elegu boarder along Uganda-South Sudan two Kenya Truck Drivers after learning that their result of coronavirus reportedly to be positive, they have to abounded their trucks at Elegu and fled. One person was arrested in Palaro Sub County, Gulu district among the village, while one who disappeared was arrested at Elegu with one of the prostitute having his hay day.
Who ownS trailers?
In the 1960s in the first independent government, Uganda Development Cooperation decided to create Uganda Trans-ocean body that was responsible for transits of goods in the country. However at the advent of National Resistance Movement Government, the Trans-ocean body was scrapped and the new heir became Gen. Salim Saleh President Museveni younger brother and Lt. Gen. Muhoozi who now owns all Ugandan trucks, but they have deployed Kenyan Truck Drivers who operate on the high ways from Mombasa to Juba, Mombasa to Kigali, and Mombasa to Eastern DR. Congo.