UGANDA: PROSTITUTE HAD SEX WITH POSITIVE COVID-19 IN GULU, HER CONTACT STILL AT LARGE.
Community worry about food stuff and people go without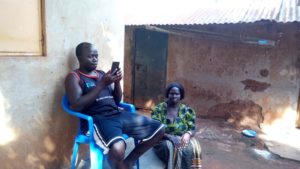 Community in Kanyagoga B ward in Gulu City are living a despair lives after getting contact with a prostitute who had sex with Kenyan Truck driver.
GULU-UGANDA:  Florence Atto 70 years old, a mother of seven children and 50 ground children living a despair life.  Atto who is Area Councilor I of Kanyagoga B ward in Gulu outskirt disclosed to Oyeng Yeng News that the community of Kanyagoga did not sleep last night as Gulu COVID-19 Task Force hunt for the suspect in her area.
"We have learned that one sex worker called Sarifa Liberty Okumu slept with a Kenya Truck driver, she brought the Kenya truck driver in her house and they had sex, but later they went back to Transa rock Hotel." Atto revealed.
She adds on that when the truck driver was arrested by Gulu COVID-19 task force, she came here hugging people including her fellow sex workers, telling people that she will not die alone. And she disappeared when information came that the task force is looking for her.
Justine Odong Local Council 1 Defense Secretary says they hunted for Sarifa Liberty, the sex worker until when she was arrested and they handed her to Gulu Regional Hospital Tack Force. When we arrested her she refuse to talk to us, even disclosing her contact.
"We came back at 12.30 AM today, the worst things which worrying us, even her family and the contact in Kanyagoga B ward have not been arrested, as I talk to you now, her mother the father they are at home." The LC I defense Secretary Odong insisted.
Meanwhile, another sex worker from South Sudan have return back two day ago from South Sudan to Kanyagoga B ward, he resurfaced is causing fear in the area, Okello John says.
"This lady just returned two day ago, all along she has not been around, and yet she is moving freely mixing with community. Here in Kanyagoga total distancing is not being observed." Okello admitted.
Gulu City is the center of COVID-19 pandemic.
Dr. James Elima, the Director of Gulu Regional Referral Hospital in his remark during COVID-19 Task Force says Gulu is going to be hits most like the landing site in Rakayi when HIV/AIDS almost wipe the community.
Dr. Elima remark follow the high numbers of COVID-19 Kenyan truck drivers who has been admitted to Gulu Hospital treatment center, some of the Kenya truck drivers has disappear when they learned that their results came positive. While other are intentionally infecting community by dropping their mask and water bottle in the community along the way, and innocent children just pick these waste disposal that is drop amidst them.
"Gulu is going to hits like Rakayi" Dr. Elima commented.
Anger and food shorted
Atto the Local Councilor says she has handed 6 people to former Gulu Save the Children Organization (GUSCO) the former war rehabilitation Center where the streets children are being kept. Those 6 boys are from Alebtong District from Lango Sub Region, they are their tenant who was renting her house.
"I am not able to feed those 6 boys, two days ago I was able to give them porridge." Atto intimated.
The Local Councilor I she is bitter that Gulu COVID-19 task force they are giving sex workers food ration, and yet some of the sex workers are just married women within Gulu City are the one who mobilized themselves.
She claimed that let government also give them food ration, tell them that we need food.
By yesterday Tuesday 13th 2020 the COVID-19 result positive coronavirus update 139 including Kenya truck drivers.  Official report from Gulu task force COVID-19 indicated that cumulative deaths isolation units Gulu Regional Referral Hospital zero, St Mary Hospital Lacor 3.
Gulu District updates for COVID-19 AS OF 12th May, 2020; 9am
Self-quarantine 58, discharged 49, death zero, institutional quarantine Lacor 130, discharged 86, Institutional quarantine 4th Division IV UPDF 12, Isolation Units Gulu Regional Referral Hospital 17,discharged 13,remain 7.  To Kenya drivers was brought late yesterday in Gulu Regional Referral Hospital and Isolation Units Lacor 10 discharged 8.