UGANDA: THE PEOPLE'S POWER OPPOSITION SUPPORTERS IN PICTORAL RUNNING BATTLE IN GULU-AS ROBERT KYAGULANYI WAS LOCKED OUT IN KAMALA.
Rober Kyagulanyi the Opposition People'sPower engaged Uganda Police Fores and UPDF in running battle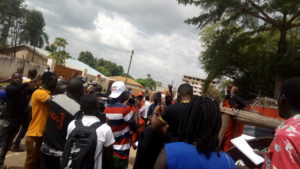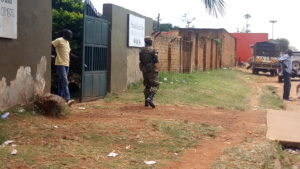 The team of Robert Kyagulanyi ak Bobi Wine stormed Gulu City with running battle as the dodged sifting one Hotel to the either keeping Gulu District Police Commander at bay.
GULU-UGANDA: At about 9.00AM local time 1.00GMT the Van of the People Power supporter has already been station at Northern Uganda Media Club (NUMEC), ready to ferry teams of media for the schedule conference at Landos  Hotel.
By 9.30 AM local time, 1.30 GMT media teams was taken … but later on the People Power Gulu team which was joined by Kampala the People's Power main team led by one MP left for Discomfort Hotel which located outside Gulu City beyond Gulu University 2 kilometer east of Kampala outskirt.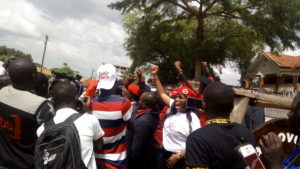 At around midday, little longer journalists swamped Discomfort Hotel to dismay of the People's Power supporters, giving a bloody nose to Uganda Police Forces and UPDF who have been in pursuit.
From Discomfort the journalists and the People's Power teams left to yet another Hotel in Town that is Kakanyero, where the it was suspected that Robert Kyagulanyi Sentamuo the President of the People's Power might have booked in.
However, the destination for Kakanyero Hotel was a tactical move to elude the dreaded Uganda Police Forces and UPDF, the duos stayed at Kakanyero Hotel for an hour and they began along journey to faced President Museveni military
Uganda Police.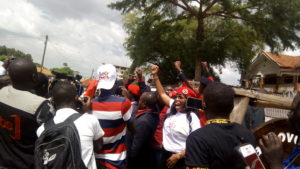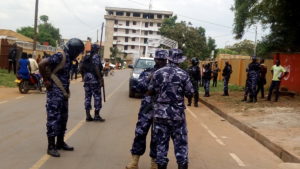 Finally journalists and the People's Power found the venue for the nitrous ASP Javuru Uganda police officer with called himself Alur boy commanded police dreaded killers' squad that blocked Hotel Covenant locking Francis Zeke the Mitiyana MP and his team inside who they ready for consultation.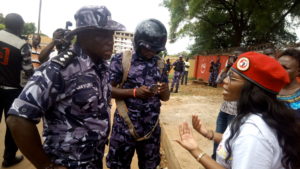 The groups of people's Power supporters from Acholi Sub Region who were locked outside the Covenant Hotel in Gulu City was led by Olanya Olenge, the People's Power.